Indian Cricket Captain, Virat Kohli is without any denial an incredible sportsman and one of the most valued celebrity among cricket fans. He is just 31 years old and has achieved a lot even in this young age, and he is also known to be one of the greatest batsman all over the world.
After being awarded with Padma Shri Award and Rajiv Gandhi Khel Ratna Award (Indian national awards) our Indian Team Captain has easily took over our hearts and has been regularly showered with love by his Indian fans.
It is no question how wonderful he is at cricket, But he is as good as that in other fields too, he is one amazing athlete who is full of dedication, hard work, sincerity and he is determined to achieve more and more. Now as per Virat's achievements you all must have guessed he must be incredibly rich right?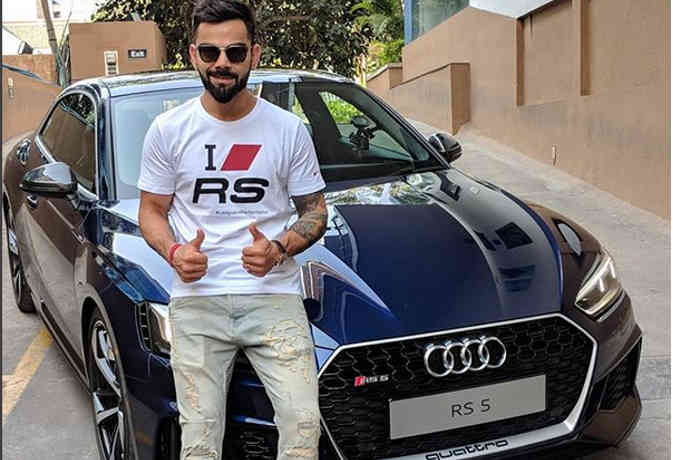 Well yes you are not guessing it wrong, our young captain Virat Kohli's Net Worth  clearly tells about how rich he actually is, as per many reports we got to know that Virat Kohli earned an enormous amount of 252 crores approximately last year.
Virat Kohli's Net Worth is around 688 crores. This huge income comes majorly from advertisements, brands (ambassador) and his foundations and start-ups. There is no doubt about how our young captain invests in other particulars.
As he has around 70 million followers on his Instagram account, he can also be called an social media influencer. He also promotes brands on his page and earns huge sums of money by that.
Virat Kohli's Net Worth  also includes the salary he gets by his contract with the Board Of Control for Cricket In India i.e. BCCI. He earns around 1 Million INR which is approximately 7 Crores annually. He earns extra money if he wins certain titles or awards after the match like man of the match/man of the tournament/man of the series.
Now if you want to know how much he earns in a month by his BCCI contract, His per month income is 15 lakhs for playing test matches and around 3 lakhs for playing T20 matches and series.
Half of Virat Kohli's Net Worth comes through endorsements from well known brands. He is now one of the highest paid personality in India. He has worked withbrands like Google, Flipkart, Audi, Colgate, Puma, Vicks, Uber and as such more.
As per our sources, he earned around US Dollar 24 million in the year 2018 and Us Dollar 26 million through these endorsements with brands in the past one year.
He stood 66 th on the list of highest earning sports persons at an international level (all over the world) and thereby he was the only Indian sportsman to have a spot in the highest(top) 100 list by Forbes Magazine.
Well now, that would mean that our captain is now one of the highest paid personality all over the world is that not delightful to hear?
Virat Kohli also holds the title and record for being the highest paid cricket consecutively now for the year 2018 and 2019 by Indian Premier League.
Kohli has been ranking on the One Day International i.e. ODI Batsman, he has been claiming this title since the year 2017.
He was the highest paid cricket from Indian Premier League in the last season, he represented Royal Challengers Bangalore, shortly RBC. He earned a massive amount of 17 crores.
In all, Virat Kohli's Net Worth tells a lot about how much he has achieved in such a short span of time. He is talented and works hard on himself in order to stay fit and fine. He is also a source of inspiration to so many young talented cricketers and sportsman.
Virat Kohli's Net Worth Statistics:
| | |
| --- | --- |
| Name | Virat Kohli |
| Age | 31 |
| Salary | $ 3.5 million |
| Endorsement | $19 million |
| Personal Investment | $ 24 million |
| Residence | Mumbai |
| Marital status | Married to Bollywood actress Anushka Sharma |
| Charity | Virat Kohli Foundation (VKF), Charity football, Social media campaigns |