Michael Jeffrey Jordan was born February 17, 1963, in Brooklyn, New York. He is widely accepted as the greatest basketball player of all time.
Jordan's family moved to North Carolina when he was young, and while in high school, he played several different sports including basketball, football, and baseball. He eventually decided to focus on basketball and became a star player in high school. He played college basketball at North Carolina, where he was a sensation on the court and won several prestigious players of the year awards.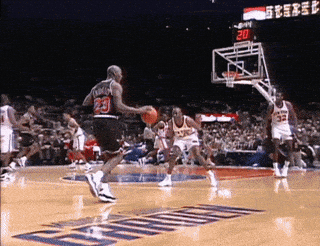 In 1987, Jordan began playing professionally for the Chicago Bulls. During his time with the franchise, he lead the team to numerous championship titles, and the Bulls dominated the sport while Jordan played for them.
Going into retirement was a hard decision for MJ, but in 2003 he finally decided to end his career as a basketball player. Now, he is the principal owner of the Charlotte Hornets of the NBA.
Check out: 20 Inspiring Will Smith Quotes
MJ has unparalleled accomplishments and after so many years of hard work, Micahel Jordan still has these phenomenal positive quotes that keep inspiring and motivate people around the world.
Let's take a look at Michael Jordan Quotes for the daily dose of inspiration:
"One day, you might look up and see me playing the game at 50. Don't laugh. Never say never, because limits, like fears, are often just an illusion"

GIPHY

"Champions do not become champions when they win an event, but in the hours, weeks, and months, and years they spend preparing for it. The victorious performance itself is merely a demonstration of their championship character."

"Obstacles don't have to stop you. If you run into a wall, don't turn around and give up. Figure out how to climb it, go through it, or work around it."

"If you quit once it becomes a habit. Never quit!"

GIPHY

"Always turn a negative situation into a positive situation."

"Everybody has talent, but ability takes hard work."

"To learn to succeed, you must first learn to fail."

"Don't let them drag you down by rumors just go with what you believe in."

GIPHY

"If you do the work you get rewarded. There are no shortcuts in life."

"I've failed over and over and over again in my life and that is why I succeed."

"Once I made a decision, I never thought about it again."

"There is no "I" in team but there is in win."

GIPHY

"I play to win, whether during practice or a real game."

"You have to expect things of yourself before you can do them."

"I'm not out there sweating for three hours every day just to find out what it feels like to sweat."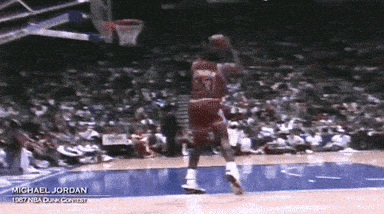 What's your favorite Michael Jordan Quotes?
Share your favorite quote in the comment section below.